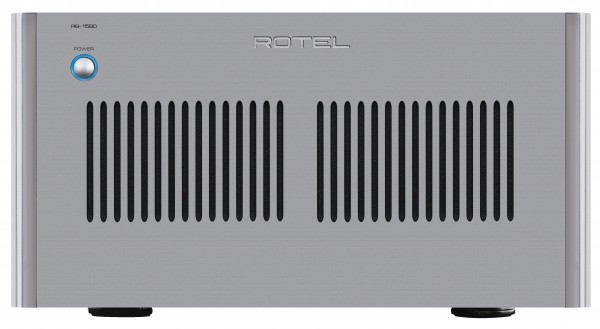 Rotel RB-1590 Stereo Power Amplifier
Power amplifiers are the audio workhorses that provide the final link between signal sources, preamplifiers, and loudspeakers. However, reviewing power amplifiers often generates the excitement of kissing your kid sister on her forehead. After all, amps seem to have a very simple job: feed the speakers enough power to make them sound great! Given the wide variety of amplifier designs, it would seem that the audio industry would disagree that the power amplifier's job is all that simple. Rotel has gained considerable experience over the last five decades with amplifier research and development. Their " balanced design concept" influences all of their audio products and emphasizes three elements: part selection, circuit topology, and critical evaluation. Therefore, it comes as no big surprise that Rotel would continue to advance the performance of its well-regarded amplifier product line with the brand spanking new RB-1590.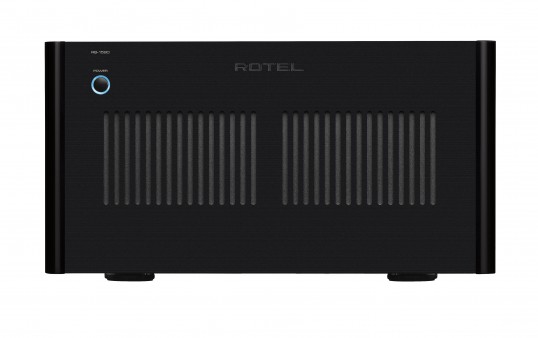 Clean and jerk
When I get a box that has 45 kg stamped on its exterior, I immediately call my handyman and have him wrestle that sucker out of the carton and into my rack. As the transformer in this baby is humongous, I was not surprised that it had heat vents nearly everywhere, front façade included.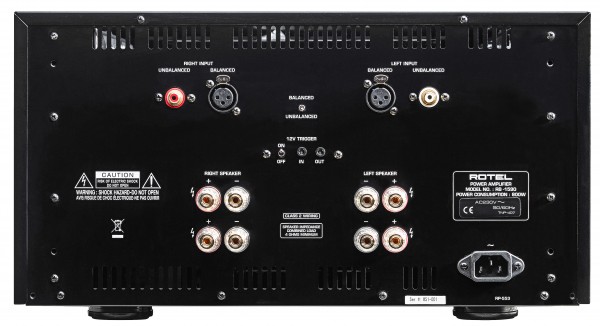 Simplicity itself, the front panel has a power button and vents; a rack mounting kit is also supplied. The rear panel has dual speaker wire binding posts, remote trigger inputs, a switch to select balanced or unbalanced inputs, and a power cord receptacle.  The considerable heft of this amp aside, one gets the immediate impression from "power on" that the Rotel RB-1590 will be one stone cold keeper.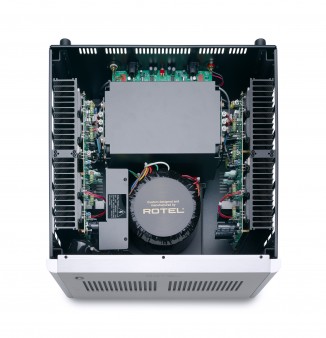 Gobs and gobs of power
The RB-1590 amp was partnered with the RC-1590 preamplifier (reviewed separately). I firmly believe that when a company releases new products, they are voiced to sound best when mated together. This Rotel pair seemed to support that article of faith. The amp and preamp were connected in the balanced mode for the evaluation period. While you "sacrifice" 4 dB of gain in balanced operation, there is a theoretical (but not always appreciable) improvement in noise floor that can get you deeper into musical details and backgrounds. This reduction in gain, as Rotel was kind enough to inform us "was a design decision to reduce the amplifier gain on the XLR to ensure the actual audible output (watts) and performance was the same between these 2 signaling connections.  So the gain of the XLR is designed to be 4dB lower in the amplifier but the output performance based on typical input voltage levels of XLR and RCA will sound the same." The RB-1590 was charged with driving my reference speakers, the Totem Mani-2 signatures, two-way ported black beauties that rested securely on  Sound Anchor stands. The Mani-2 Sigs have relatively low sensitivity (85 dB) that can challenge the headroom of many amplifiers and a nominal impedance of 4 Ohms but I figured that, at 350 honking watts per channel, the RB-1590 would be more than up to the task of making them sing.
I challenged the Rotel stereo amp with a passel of high-resolution material including some recent Blu-ray Pure Audio discs from Sono Luminus via my Oppo BDP-105 universal player. One disc in particular, ZOFO plays Terry Riley, is an enterprising tour through piano works for four hands by one of America's leading composers.  The piano in this case was a Steinway D series, recorded in DXD format, 352.8kHz/32-bit resolution and down-rez'd to 192kHz/24-bit for this disc. The sweep, heft, and sheer power of the piano came through with astonishing realism and gave notice that the RB-1590 was going to be a force to be reckoned with.
Digging into the extensive high-resolution library on my MacBook Air, connected to the USB port of an Esoteric K-01 SACD/CD player, I went to one of my favorite recordings, Eiji Oue and his Minnesota Orchestra's rendering of Stravinsky's Firebird Suite. This Reference Recording is a 176kHz/24-bit dandy that begins quite softly and suddenly, at 9:28, hits you in the gut with a huge wall of sound. The low noise floor of the RB-1590 enabled all of the many details of this piece to come across very clearly and very loud!
As a former voice student, I have always been attracted to recordings that feature the human voice. The late Eva Cassidy left behind a treasure trove of great tracks. Her deceptively simple voice and guitar version of "Wayfaring Stranger" on Simply Eva (44.1kHz/16-bit FLAC) sounded absolutely perfect, with terrific recovery of this song's subtle microdynamics.
I am totally amped!
While living with this amplifier, I noted how overbuilt it is and how well protected from such untoward events as thermal overload or sudden signal anomalies. Try as I might with sound levels much higher than usual, I was unable to "trip" the protection circuitry. This was very reassuring as, in my younger and wilder days, I have decommissioned some very well regarded "high-end" amps.  Most importantly, the RB-1590 opened up my speakers like nobody's business yet it did not call undue attention to itself.
The Good
Built like the proverbial tank
Simple installation
Plenty of power
Bullet-proof design
The Bad
The Scorecard:
Design/Ergonomics:
[Rating:4.5/5]
Performance:
[Rating:4.5/5]
Value:
[Rating:4.5/5]
Overall:
[Rating:4.5/5]
The Definitive Word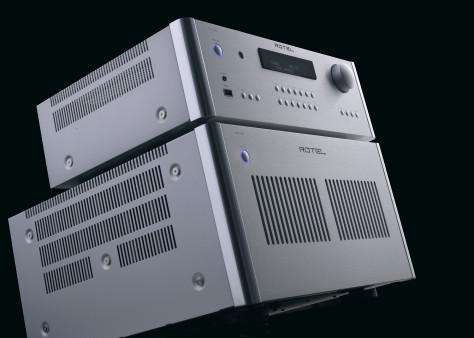 In spite of today's home theater frenzy, there are still plenty of listeners who prefer to take their music in two channels, if you please. It is for these folks, regardless of their music preferences, that Rotel intends this beast of an amplifier. At nearly $3K, the RB-1590 is not inexpensive, but it is likely to be the last stereo amplifier that you will ever need and should provide many years of sheer listening enjoyment. If you can spring for an additional $1750.00, consider mating it with the RC 1590 stereo preamplifier, and you will truly be set for the foreseeable future.
Specifications :
Continuous power/2-channels driven    350 watts/channel (20-20kHz, 8 Ohms)
Total Harmonic Distortion    <0.03% (20-20kHz, 8 Ohms)
Intermodulation Distortion      <0.03%  (60 hz: 7kHz)
Frequency Response        10Hz-100kHz + 3 dB
Damping Factor (20Hz-20kHz, 8 Ohms)  300
Input Sensitivity/Impedance
Unbalanced         2.2V/12k Ohms
Balanced        3.5 mV/100k Ohms
Gain
Unbalanced    27.5 dB (+ 0.5 dB)
Balanced        23.5 dB (+ 0.5 dB)
General
Power Consumption  800 watts
Power Requirements   120 volts, 60 Hz (USA version)/230 volts, 50 Hz (EC version)
Weight     38.1 kg (84 lbs)
Dimensions (W x H x D)   431 x 237 x 454 mm/17 x 9.375 x 17.875 in
More Information:
Rotel RB-1590 Stereo Power Amplifier (SRP $2999)