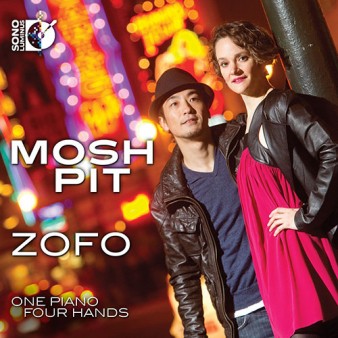 The Album
[Rating:4.5/5]
What is moshing? Well, it is a dance style, popularized in the 1980s, that is best seen rather than described in words. The essence of mosh is a high level of physicality (think slam dance) often in large crowds who line the "pit" where the action takes place. So Mosh Pit would seem an unlikely title for an album with 20th century American classical piano music. Even more off-center is the fact that this recital features the unusual one piano-four hands pieces, most of which were composed for duo pianists playing a single instrument:
Cuban Overture (George Gershwin)
Sonatina  (Conlon Nancarrow)
Souvenirs (Samuel Barber)
Gazebo Dances (John Corigliano)
Three Dance Portraits (Allen Shawn)
Five Days from the Life of a Manic-Depressive (Paul Schoenfield)
The duo pianists on this Sono Luminus recording are accomplished piano soloists, Eva-Marie Zimmerman and Keisuke Nakagoshi, who have been performing together as ZOFO (acronym for "20 Finger Orchestra" with "ZO" standing for the number 20 and FO for Finger Orchestra). for the past four years.
Audio Quality
[Rating:4.5/5]
The 5.1 DTS-HD Master Audio 24/192kHz version and its two-channel counterpart each capture of the Steinway's rather big, warm sound. The former is more spacious and detailed.  I could not evaluate the 7.1 DTS-HD Master Audio 24/96kHz version as my system lacks the additional two channels.
Supplemental Materials
[Rating:4/5]
Sono Luminus provides a very good-sounding standard resolution audio CD. As I have come to expect from this label, the program booklet is very thorough, covering each selection, its composer and the performers.
The Definitive Word
Overall:
[Rating:4.5/5]
ZOFO executes to near perfection, a varied program of twenty fingers tickling the ivories of one Steinway.  The perfect interplay of all those digits comes from considerable experience as a musical team and makes for a terrific way to spend an hour-plus. The repertory choices are brilliant, taking us through a wide range of styles.  The biggest winners, to my ears, were the delightful six "dance" movements of the Barber Sonatina, Corigliano's evocative four-part Gazebo Dances, and the Shawn Three Dance Portraits with its jazzy, rocking sections. All of these pieces exploited the added rhythms and dynamics that the extra pair of hands supplies. Aided by state-of-the-art recording, this is another hit for Sono Luminus team.
[amazon-product]B00BK6HQSC[/amazon-product]
Overall
[Rating:4.5/5]
The Album
[Rating:4.5/5]
Audio Quality
[Rating:4.5/5]
Supplemental Materials
[Rating:4/5]