Paramount Home Entertainment announced today the next release in their prestigious Sapphire Series of Blu-ray releases will be director Sam Mendes' five-time Academy Award winning modern classic, American Beauty, on  September 21, 2010.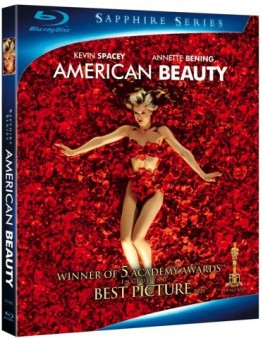 Press release below:
Director Sam Mendes' haunting, lyrical and darkly comedic tour de force American Beauty makes its Blu-ray debut on September 21, 2010 from Paramount Home Entertainment.  Winner of five Academy Awards®, including Best Picture, Best Director, Best Actor, Best Cinematography and Best Screenplay, the contemporary classic presents an engaging portrait of the disillusionment, disappointments and dreams of a "typical" American family. Starring Kevin Spacey (Casino Jack) in a role that won him an Oscar® for Best Actor, the film features a stellar cast including Annette Bening (The Kids Are All Right), Chris Cooper (The Company Men), Peter Gallagher (Californication), Mena Suvari (Factory Girl), Wes Bentley (Jonah Hex), Allison Janney (Juno) and Scott Bakula (Men of a Certain Age).
Capitalizing on the pristine picture and sound of the Blu-ray format, Paramount Home Entertainment's exclusive Sapphire Series presents some of the greatest films ever made in the highest quality.
The American Beauty Blu-ray is presented in 1080p High Definition with English 5.1 DTS-HD Master Audio, French 5.1 Dolby Digital, Spanish 5.1 Dolby Digital and Portuguese 5.1 Dolby Digital along with English, English SDH, French, Spanish and Portuguese subtitles. The disc also includes the following special features in standard definition, except as indicated:
Commentary with director Sam Mendes and screenwriter Alan Ball
American Beauty: Look Closer…
Storyboard Presentation with Sam Mendes and director of photography Conrad L. Hall
Theatrical Trailers (HD)