– –

The Series
[Rating:5/5]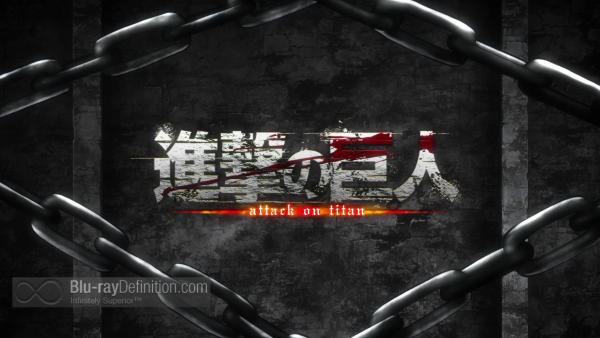 Director Araki Tetsurō's (High School of the Dead) adaptation of this manga series written and illustrated by Isayama Hajime is an action-packed, gruesome, and intense series like none other. The graphically mesmerizing shōnen fantasy Attack on Titan is set in an alternate world where humanity has been forced to retreat behind a series of massive walls for a hundred years after giant, man-eating creatures named Titans appeared. But on one fateful day, after a century of peace, a massive Titan suddenly appears and smashes through their wall, leaving them virtually defenseless. Eren Jaeger (voiced by G.Addict singing group member Kaji Yūki) witnesses his mother get eaten alive and his father disappears. He and his friends — his adopted sister Mikasa (Ishikawa Yui) and the timid Armin Alert (Inoue Marina) — escape to safety, but they are never the same. Growing up to join the defense forces that fight to defend humanity, the three see bloody battle and carnage, as Eren, determined to wipe out every Titan from the face of the Earth, drives his friends forward toward a dangerous path fighting, and Mikasa shows she may be a genius at combat on a level never seen before. Meanwhile Armin, still unsure of his role and his abilities, discovers he has a knack for always making the right decisions under pressure. But is it enough? It might have to be. But maybe not, for Eren may be just the answer for which humanity has been waiting. Is there something within him that can help the humans defeat the seemingly unstoppable Titans?
Attack on Titan, even across just these first thirteen episodes, will have you glued to the screen from the very first episode to the last (and FUNimation makes it easy providing a "Marathon Viewing Mode" free from opening and closing credits). The intensity drips off of every scene as the plot slowly builds to sometimes heartbreaking conclusions. The series isn't afraid to take risks and allow us to see our "heroes" fail or do the unthinkable, such as in one particularly gruesome flashback involving Eren and Mikasa where we find out how they initially met and what happened to her parents.
Then there is the gorgeous animation style that breaks new ground in delivering some realism while also also making an edgy, fantastical, almost steampunk influenced world that is at times mesmerizing (who won't get excited watching the Scouts perform acrobatics in the air as they attack the Titans?) and other times horrifying in its gory detail.
Video Quality
[Rating:4/5]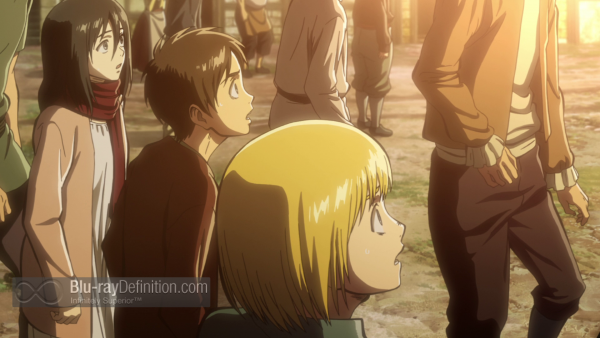 This is a rather strong transfer of the Attack on Titan digital animation from FUNimation that is offered up here in an AVC 1080p encodement on Blu-ray. Apart from some very minor, spotty issues with banding, a hint of softness, and occasionally noticeable motion artifacts in some panning shots, there's not much to complain about. The series looks rather pleasing to the eye in full-motion, and only the motion artifacts that pop up really stick out the most of the minor issues I've picked out here.
Audio Quality
[Rating:3.5/5]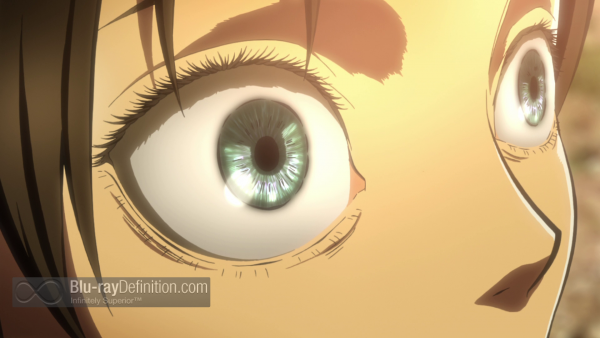 This is one series that really could have benefited from a full-on 5.1 mix for the original Japanese soundtrack, which is provided in the usual Dolby TrueHD 2.0. Not that it's bad – it's quite engaging, although it does sound sort of dynamically limited, but with the amount of high flying action sequences and stomping giants going on, for those who like to watch in the original language (and prefer the original voice cast), the additional channels would have been a real treat. For dub fans, the 5.1 mix gets the job done, although it too sounds somewhat limited in its range and is disappointingly meager in its low frequency extension.
Supplemental Materials
[Rating:3.5/5]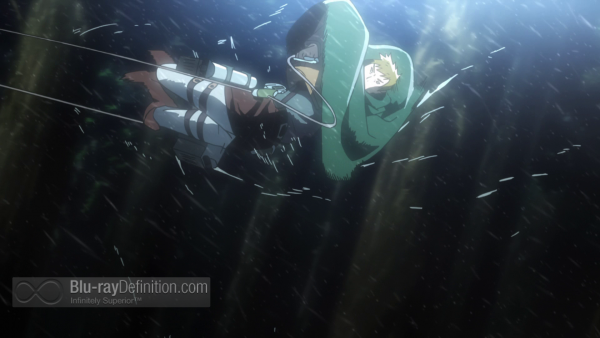 Episode 3 Commentary
The Making of Attack on Titan (1.78:1; 1080p/24)
Episode 13 Commentary
"Chibi Theatre: Fly, Cadets, Fly!" (1.78:1; 1080p/24; 00:47:10):

Days 1 & 2
Days 3 & 4
Days 5, 6 & 7
Days 8, 8 & 10
Days 11, 12 & 13

Eyecatch Gallery (1080p/24)
Textless Opening Song "Feurroter Pfeil Und Bogen"
Textless Closing Song "Utsukushiki zankoku na sekai"
U.S. Trailer (1.78:1; 1080p/24; 00:01:43)
FUNimation Trailers
The Definitive Word
Overall:
[Rating:4.5/5]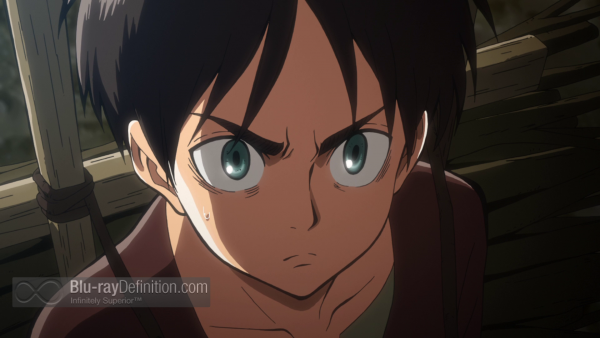 An exiting, mesmerizing, intense piece of gore, fantasy, and high-flying drama from the director of High School of the Dead, Attack on Titan goes to unexpected places and is riveting from beginning to end across these first thirteen episodes.
Additional Screen Captures
[amazon-product]B00FXB8RRO[/amazon-product]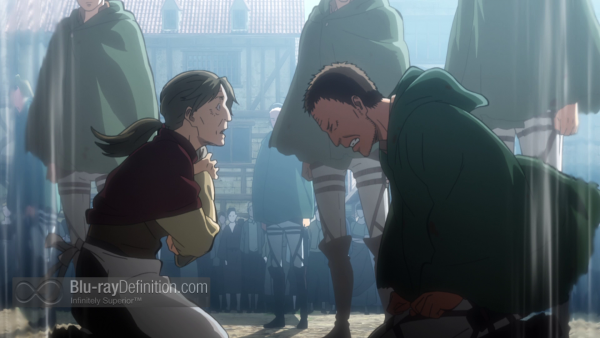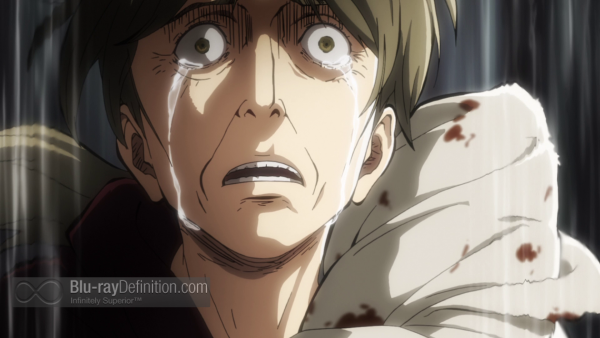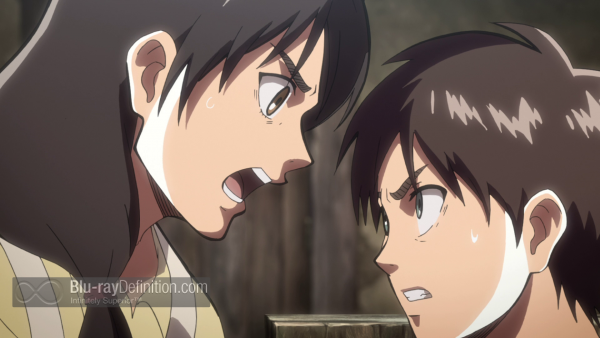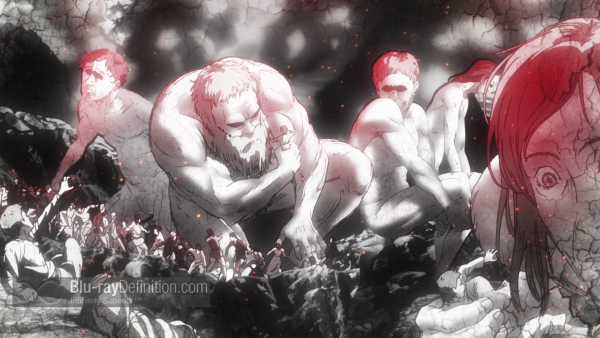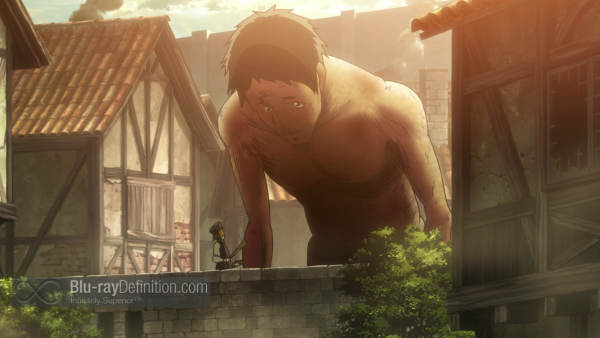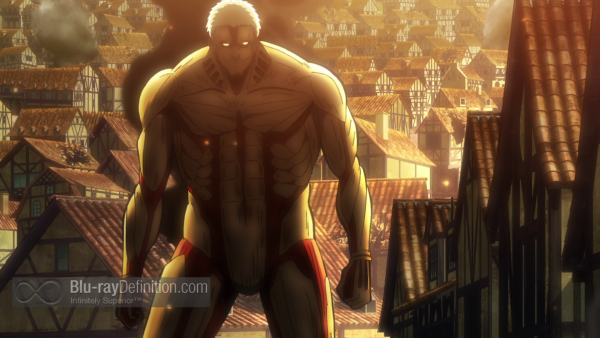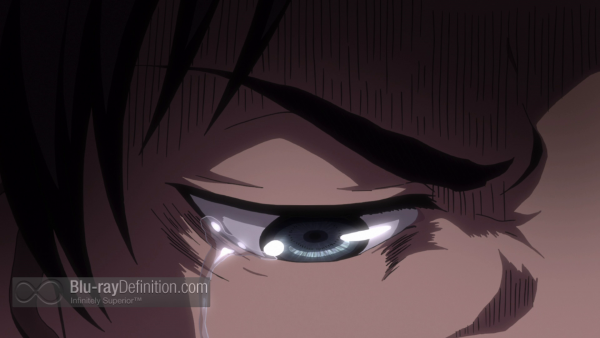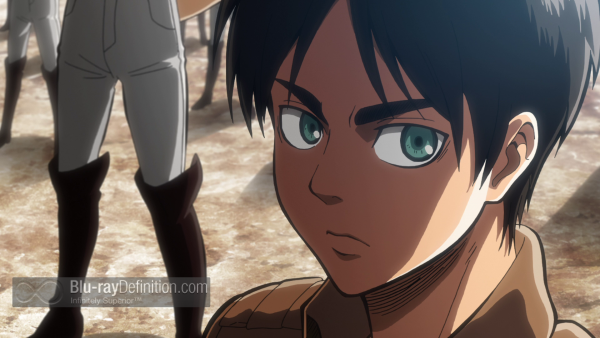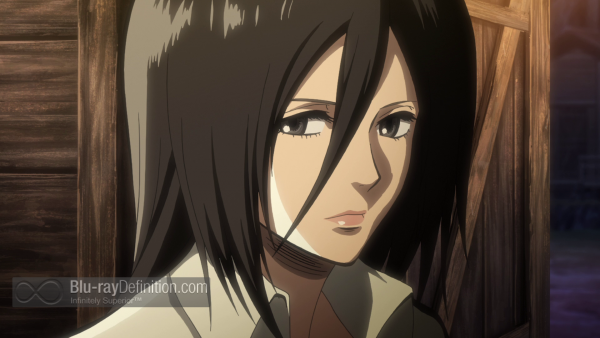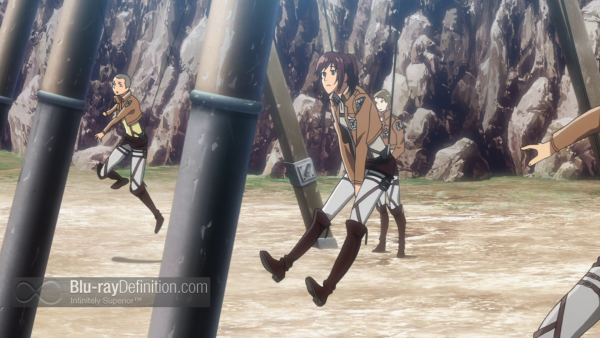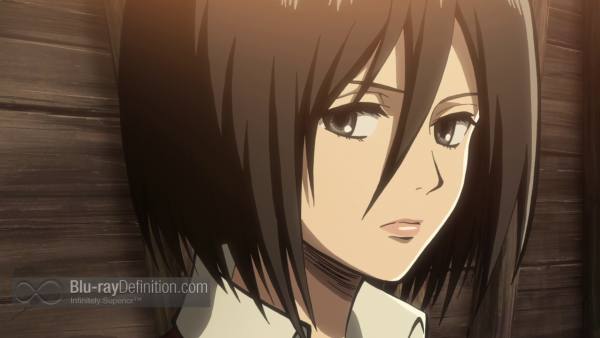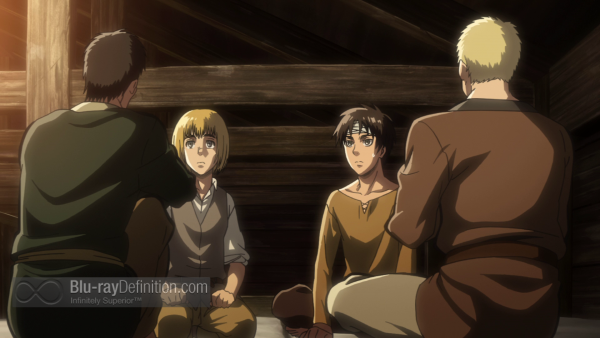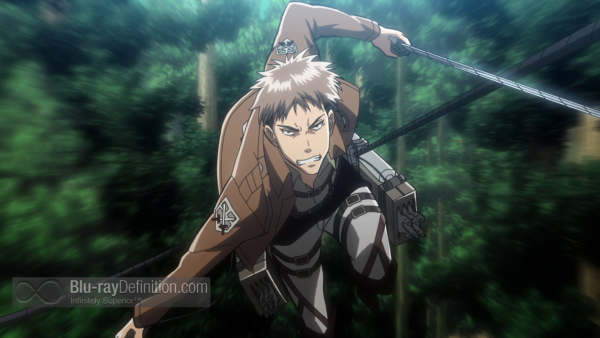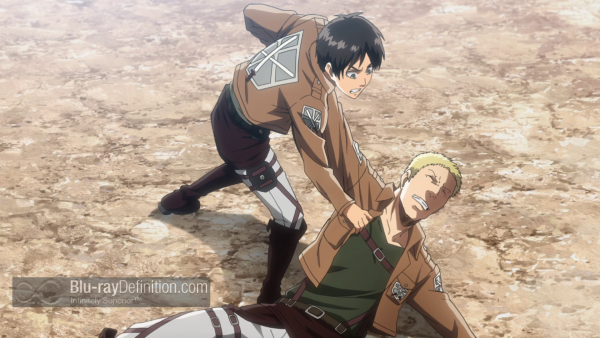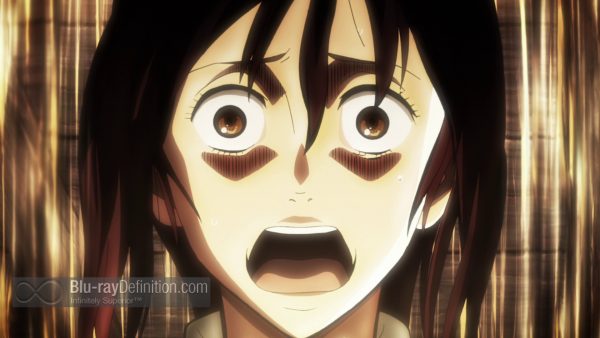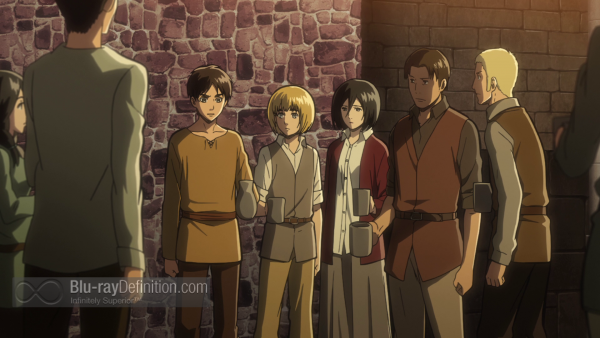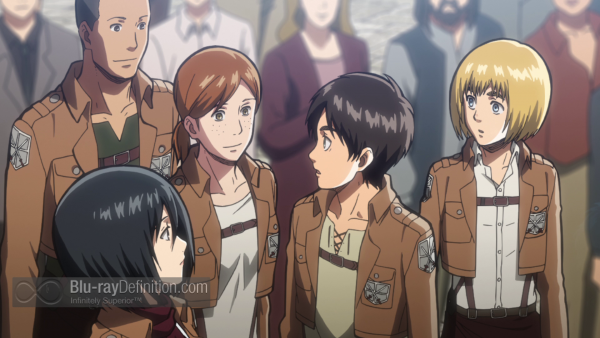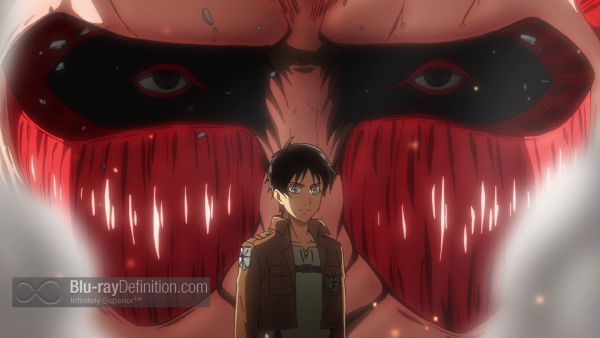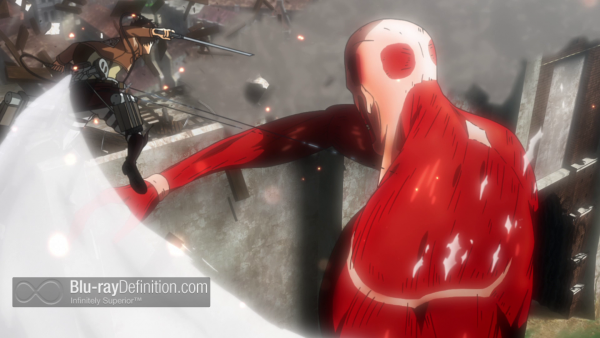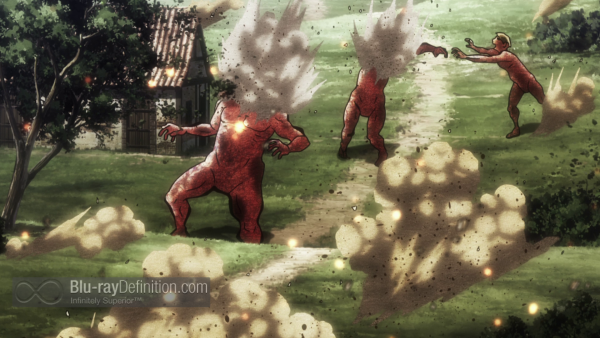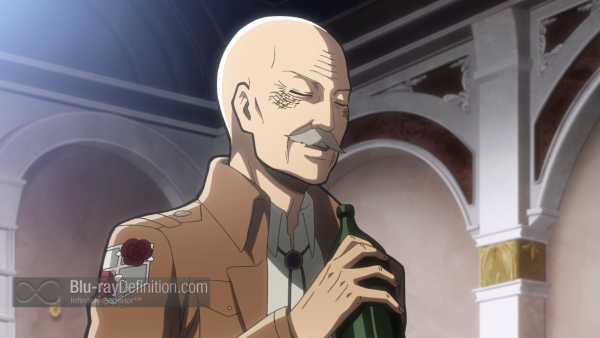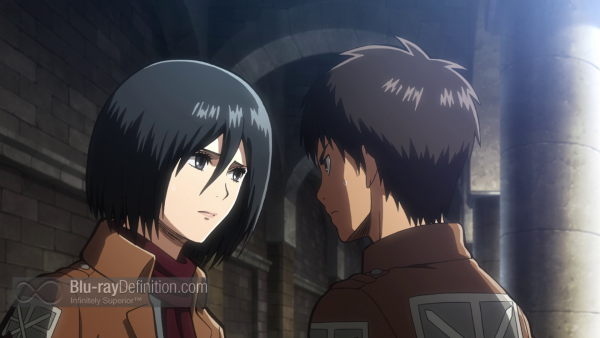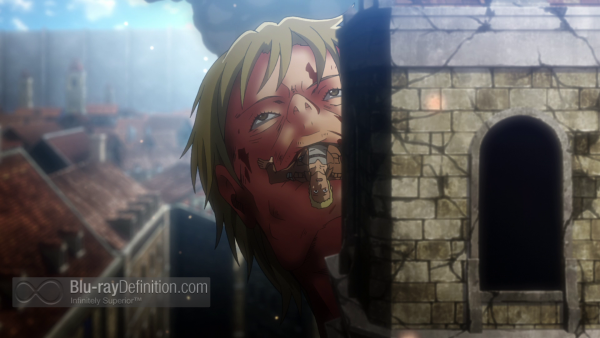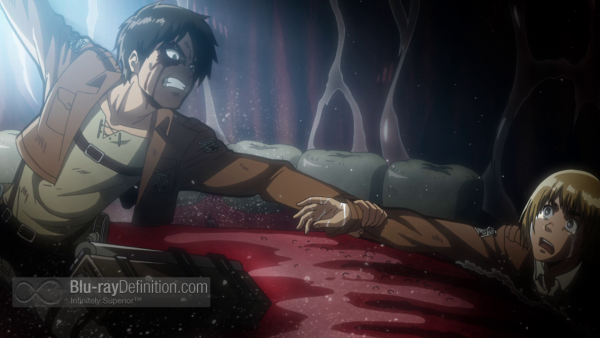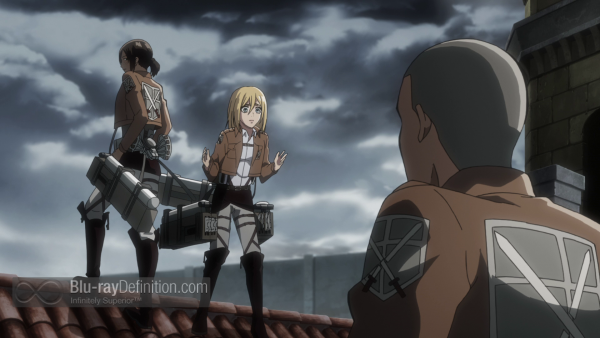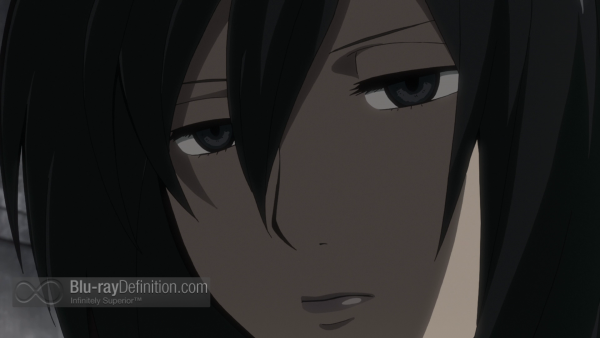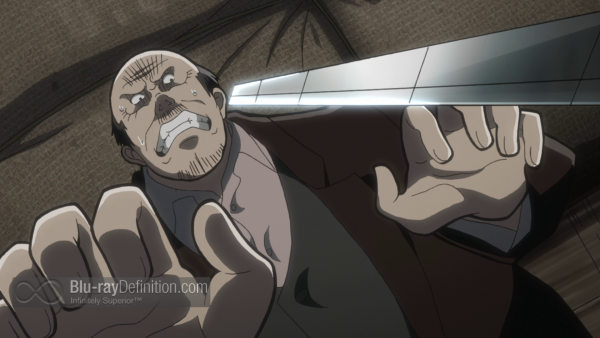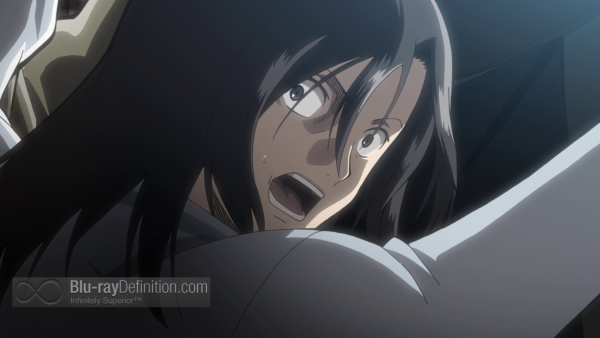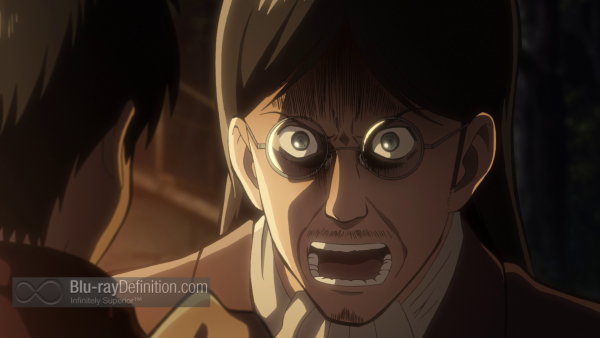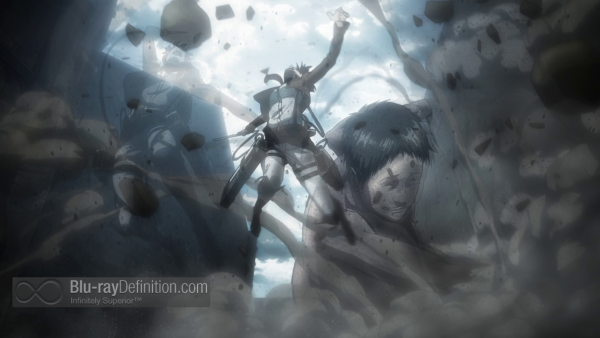 [amazon-product]B00FXB8RRO[/amazon-product]