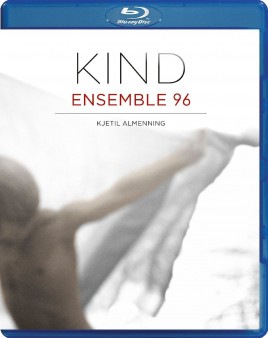 Audio Codec: PCM 2.0 (192kHz/24-bit), DTS-HD Master Audio (192kHz/24-bit)
Subtitles: None
Region: ABC (Region-Free)

Rating: Not Rated
Discs: 2 (1 x Blu-ray + 1 x SACD)
Studio: Naxos
Blu-ray Release Date: January 25,  2011
List Price: $39.95
Shop for more Blu-ray titles at Amazon.com
Overall
[Rating:4.5/5]
The Performance
[Rating:4.5/5]
Audio Quality
[Rating:4.5/5]
Supplemental Materials
[Rating:2/5]
The Performance
[Rating:4.5/5]
2L recordings is an avante-garde Norwegian label that features high resolution recordings of unconventional music. In this respect, the present disc, Kind, certainly qualifies.  Ensemble 96 is a youthful but well-schooled vocal group that delivers a musical program thematically related to children and childhood. However, this is not lighthearted or feel good fare. Most of the songs have a rather dark side, characteristic of children's bad dreams rather than of their happy memories. The center piece is Marcus Paul's setting of W.B. Yeats' "The Stolen Child" which depicts a child being lured to his death by evil spirits. It is a haunting piece, nonetheless, and its other-worldly sonority combining singers and string quartet captures the fascination and horror of its theme.  There are several lullabies, none more engaging than "Bie, bie lite ban," a traditional piece from Norway. Ensemble 96 is a very disciplined group of choral singers with well matched voices and precise intonation. Few, if any of the remaining pieces, will be familiar to listeners outside of Norway.  As I listened, I did hear echoes of Mahler and Britten. Those coming to this disc for the first time may find some of the pieces challenging but will appreciate their skillful and sensitive treatment.
Audio Quality
[Rating:5/5]
The soundtrack in DTS-HD Master Audio (192kHz/24-bit) has great presence and natural sounding space. The voices are suspended in a realistic large environment and clearly articulated. In all of the tracks, there was a perspective that approached the live cathedral in which the recording was made. Acoustic balances were nigh unto perfect throughout.
Supplemental Materials
[Rating:2/5]
There is an accompanying hybrid multichannel SACD which is outstanding in its own right.
The Definitive Word
Overall:
[Rating:4.5/5]
Modern choral performances do not get much better than Kind. The contemporary and , in some cases unusual, vocal idiom of most of the selections should not deter music lovers from considering this disc. The lullabies are miniature masterpieces and the major work, "The Stolen Child," is a tour de force. The clarity of the vocal lines is outstanding, nearly demonstration-quality, and supports the illusion of a live performance. I will look forward to more Ensemble 96 recordings. Highly recommended.