– –
The Film
[Rating:5/5]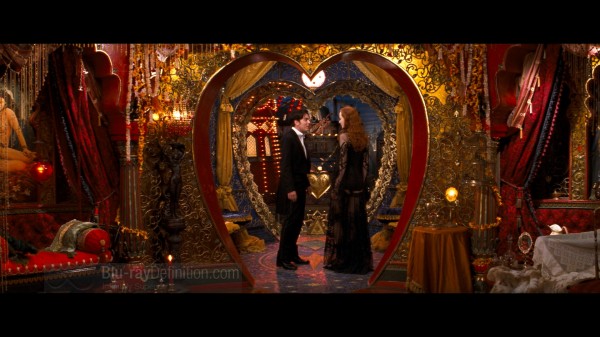 Long before FOX network's Glee, there was director Baz Luhrmann's 2001 musical Moulin Rouge!, a cutting edge visual spectacle that reinvented the movie musical with its inventive visual style and use of modern pop song mash-ups combined with dazzling costumes and choreography. In Luhrmann's world, Nirvana's "Smell's Like Teen Spirit" and Labelle's "Lady Marmalade" were right at home alongside Rogers' and Hammerstein's "The Sound of Music," U2's "One" or Bowie's "Diamond Dogs."
The story used Montmartre's historical Moulin Rouge nightclub as its backdrop to tell the story of the poor writer Christian (Ewan McGregor) and the Moulin Rouge's beautiful star courtesan Satine (Nicole Kidman) who fall in love after a case of mistaken identity, but are battling a doomed relationship when a Duke (Richard Roxburgh) sets his sights on Satine and the Moulin Rouge. Satine, dying from consumption and not knowing it, is caught in a love triangle, with the evil Duke and the lovelorn Christian, but she only truly loves one of them — Christian.
Moulin Rouge! excites with its colorful sets and its energetic dances and it moves with its heartwarming love story. The music and vocal performances make the film a memorable experience. The re-workings of the familiar tunes, still relevant today, are perfectly interwoven into the fabric of the film's story.
Video Quality
[Rating:4.5/5]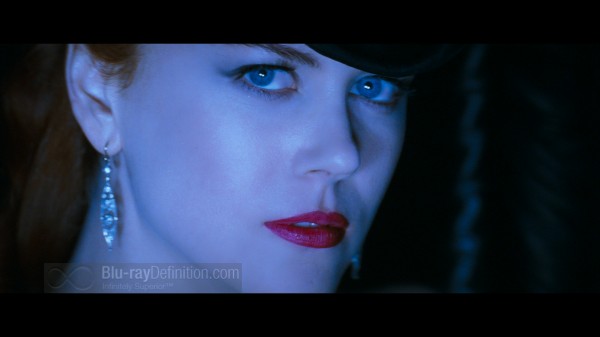 Approved by the director himself, Moulin Rouge comes with a marvelous 2.40:1 AVC/MPEG-4 encoding that is richly saturated, has deep blacks, is full of detail, and looks quite film-like with a thin layer of consistent grain.
Audio Quality
[Rating:5/5]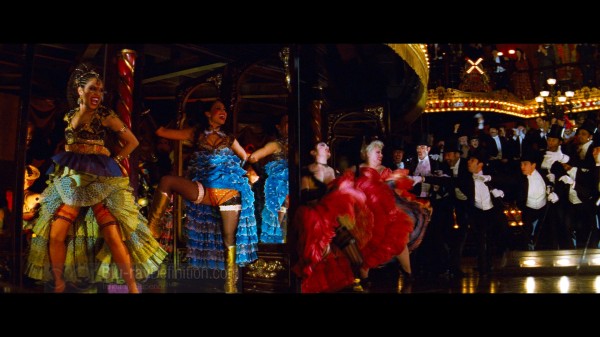 The English DTS-HD Master Audio 5.1 soundtrack is a lively one that surrounds listeners with lush ambience and the chatter of the Moulin Rouge nightclub. Low frequencies are quite deep, high frequencies are smooth and the overall mix shows a wide but reasonable dynamic range.
Supplemental Materials
[Rating:3.5/5]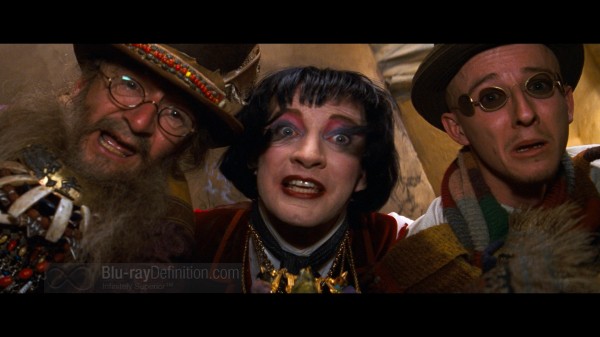 This title certainly does not want for supplements, although most are in an upscaled-to-1080p format. Still, it's difficult to argue against the abundance of materials here and the obvious value they add to this title.
The supplements provided with this release are:
Audio Commentary by Baz Luhrmann, Catherine Martin, Donald Mcalpine, and Craig Pearce.
"Spectacular Spectacular" Picture-in-Picture Mode with Audio Commentary by Baz Luhrmann, Catherine Martin, Donald McAlpine, and Craig Pearce.
A Word from Baz (1.78:1; 1080p/24; 0:01.58) — The director talks about the new transfer to Blu-ray.
A Creative Adventure (1.78:1; 1080p/24; 0:11.04)
The House of Iona (1.78:1; 1080p/24; 0:07.11) — The creative house where Luhrmann and his collaborators do much of their work and  brainstorming is profiled.
The Making of Moulin Rouge (1080i/60; 0:25.55)
From the Bazmark Vault (1.78:1; 1080p/24):

Father & Son
Early Cut of Zidler's Rap
Baz Unleashes Unbridled Lust
A Kiss, A Touch or a Pat
Nicole & Jim Rehearse at Iona
Ewan & Nicole's First Dance
Zidler's Jig
Directing Man in the Moon Deleted Cut
Directing Like a Virgin
The Duke's Happy Ending
Jealousy Tango — The Early Tests
Rehearsal Footage — Jealousy Tango
Rehearsing Ravishment
On Set with Toulouse Tonight
Nicole Kidman's First Vocal Test — "Sad Diamonds"

The Stars:

Nicole Kidman as Satine (1080p/24; 0:03.44)
Ewan McGreggor as Christian (1080p/24; 0:03.23)
John Lequizamo as Toulouse (1080p/24; 0:02.31)
Jim Broadbent as Zidler (1080p/24; 0:02.29)
Richard Roxburgh as The Duke (0:02.44)

The Writers:

Interview with writers Baz Luhrmann & Craig Pearce (1080p/24; 0:04.09)
Craig Pearce Reads Early Treatment (1080p/24; 0:02.29)

The Design:

Interview with production designer and costume co-designer Catherine Martin (1080p/24; 0:06.49)
Interview with co-costume designer Angus Strathie (0:02.22)
The Evolution of the Intro (1080p/24; 0:04.38)
The Green Fairy (1080p/24; 0:03.57)
The Windmill (1080p/24; 0:02.12)
Christian's Garret (1080p/24; 0:02.35)
The Main Hall (1080p/24; 0:02.56)
The Garden of Earthly Delights (1080p/24; 0:03.04)
Gothic Tower (1080p/24; 0:01.44)

The Dance:

Extended Can Can (1080p/24; 0:04.49)
Extended Tango (1080p/24; 0:05.58)
Extended Hindi (1080p/24; 0:03.39)
Extended Coup D'état (1080p/24; 0:00.57)
Interview with choreographer John "Cha Cha" O'Connell (1080p/24; 0:06.14)

The Music:

The Music Journey (1080p/24; 0:09.54)
The Love Medley Music (1080p/24; 0:04.28)
Interview with Fatboy Slim (1080p/24; 0:03.56)
"Lady Marmalade" (1080p/24; 0:04.33)
"Come What May" (1080p/24; 0:04.15)
"One Day I'll Fly Away" (1080p/24; 0:03.57)

The Cutting Room:

Interview with editor Jill Bilcock and Baz Luhrmann (1080p/24; 0:03.46)
Director's Mock Previsualisations (1080p/24; 0:04.40)
Toulouse Tonight Web Series

Marketing:

Around the World with the Moulin Rouge (1080p/24; 0:02.10)
Theatrical Trailer
Japanese Theatrical Trailer

Live Extras:

What's New
Live Lookup — access to IMDb
The Definitive Word
Overall:
[Rating:4.5/5]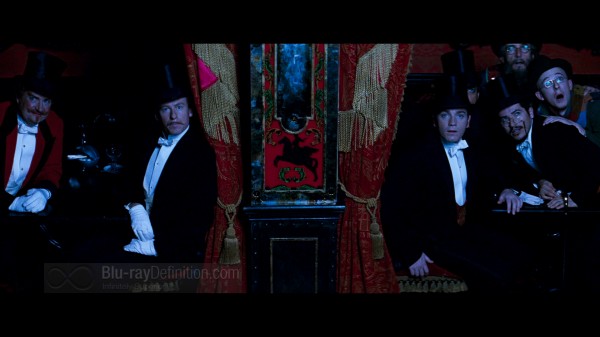 Superb! Moulin Rouge is a film that, admittedly, took time to win me over, but being someone who loves music, it didn't take more than two or three viewings to take. Nicole Kidman and Ewan McGregor have perfect chemistry and this new Blu-ray release is absolute eye candy as well as an aural treat. Highly Recommended.
Additional Screen Captures
[amazon-product]B001G8XON0[/amazon-product]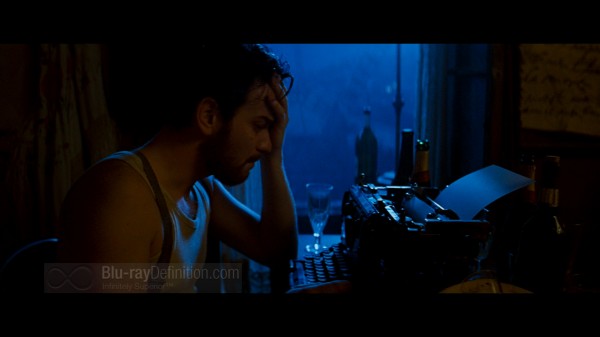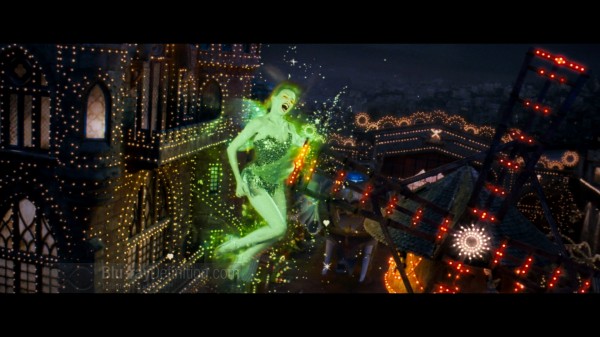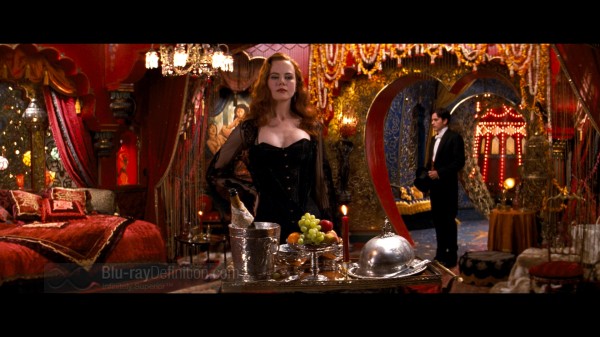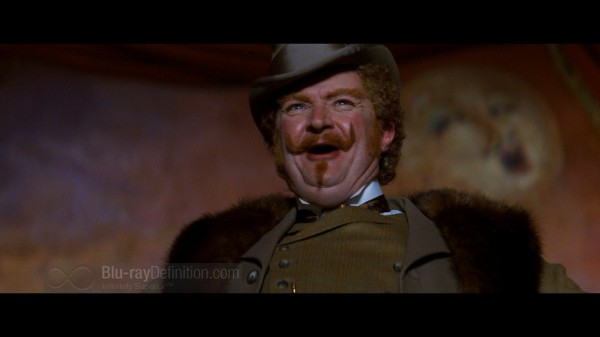 [amazon-product align="right"]B001G8XON0[/amazon-product]