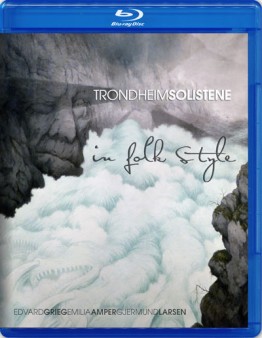 Audio Codec: DTS-HD Master Audio 5.1 (192kHz/24-bit), DTS-HD Master Audio 7.1 (96kHz/24-bit), LPCM 2.0 (192kHz/24-bit) / SACD: 5.1 DSD, 2.0 DSD, 2.0 LPCM (44.1kHz/16-bit)
Video Codec: AVC/MPEG-4 (only still images for menu navigation)

Region: ABC (Region-Free)
Discs: 2 (1 BD/1 SACD)
Composer: Grieg/Amper/Larsen

Performers: Trondheimsolistene

Label: 2L
Release Date: May 2010 (EU), June 29, 2010 (US)

List Price: NOK 199,00; $34.99; CDN$37.99
[amazon-product]B003O1SIMY[/amazon-product]
[amazon-product region="ca" tracking_id="bluraydefinit-20″]B003IP2Y1M[/amazon-product]
Shop with us for more Blu-ray releases at Amazon.com
Overall
[Rating:5/5]
The Performance
[Rating:5/5]
Video Quality
[Rating:0/5]
Audio Quality
[Rating:5/5]
Supplemental Materials
[Rating:4/5]
The images below are production stills and are not taken from the disc, which only contains limited video menus for disc navigation.
The Performance
[Rating:5/5]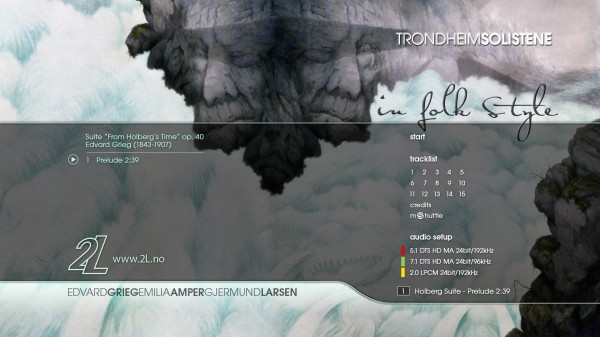 In Folk Style is another 2L Blu-ray Audio release that can be listened to without the need for a screen to navigate. The default track (red) is a DTS-HD Master Audio 5.1 encoding in 192khz/24-bit, which can be changed to DTS-HD Master Audio 7.1 (96kHz/24-bit) by pressing the "green" button on your remote or to stereo LPCM 192kHz/24-bit by pressing the "yellow" button on your remote. The second disc is an SACD with the same content encoded with DSD in 5.1 and stereo. There is also a regular CD track for compatibility reasons.
Anyone with even a passing familiarity with classical music and Grieg will be familiar with the opening piece that anchors this release. In fact, even a non-familiarity with Grieg or classical music will most likely yield positive results when it comes to the Holberg Suite or "Suite from Holberg's Time" Op. 40 by Edvard Grieg. Its galloping opening in threes and folksy melodies are unrelentingly romantic throughout garnering the piece, intended as homage to the Norwegian composer Holberg, a permanent fixture in the landscape of romantic music. This is the "pop" music of the classical world.
Even more fascinating and pertinent to this particular release is the Norwegian nationalism inherent in the music. Grieg himself had striven throughout his career to define a national Norwegian identity in the sound of his compositions. His suite for Holberg, was a nod from one Norwegian to another and it intended to portray the sounds of dances that Holberg would have heard in his time, using the familiar folksy, Scandanvian sounds that Grieg so adored. Now, we have 2L, a label priding itself on its Norwegian heritage recording Trondheimsolistene interpreting Grieg — it's like looking through a mirror looking through a mirror, etc. etc.
With so many recordings of the Holberg out there, perhaps it is best to compare this particular Holberg Suite to another contemporary high-resolution recording. What better recording than the recent 2005 BIS SACD by the Bergen Philharmonic Orchestra with Ole Kristian Ruud conducting (BIS-SACD-1491). Right from the start, the 2L SACD in comparison wins on instrumental clarity, perhaps due to its "stage" mix versus the BIS' more traditional audience perspective. However, the story doesn't end there. The ensembles are quite similar on their timings, but Trondheimsolistene succeed in injecting a new bit of life and air into the Holberg that gives it some zip, where the Bergen/Ruud fall into a more staid and traditional path of romanticism.
Second up on In Folk Style from Grieg are Two Nordic Melodies, Op. 53. The more melancholy and introverted tunes, handled by both ensembles on each of their respective recordings, has a lilting, late afternoon feel. Trondheimsolistene again play through the Grieg not with romantic reverence, but with technical understanding and feel that updates the charm without losing the substance. Although the Bergen/Ruud is beautifully played as well, again Trondheimsolistene are the favorites to my ears.
After the Grieg has been played through on In Folk Style, however, is where the real surprise begins. The ensemble plays through arrangements of absolutely folksy pieces that continue the trend of furthering the traditional music of Norway. First on tap is Emilia Amper's Abrégé — folk suite for nyckelharpa and string orchestra arranged by Johannes Leonard Rusten. This traditional piece composed by the contemporary nycelharpist Emilia Amper starts out deceptively simple and folksy, turning itself into a rollicking fairground celebration. Members of the Trondheimsolistene perform and prove just how loose they can get in this one.
Closing out the set is another folk-inspired contemporary gem from composer/fiddler Gjermund Larsen, DIPLOM — Folk suite for fiddle and string orchestra. With long sexy melodic lines that decries the countryside but long for the urban, DIPLOM is thoroughly modern folk fare and once again the members of Trondheimsolistene show their aplomb at diving into the various musics of Norwegian culture without a hitch. Bravo to this!
Video Quality
[Rating:0/5]

This release only contains limited video for menu navigation.
Audio Quality
[Rating:5/5]
With In Folk Style 2L continues their mission of providing the highest quality classical audio recordings available on Blu-ray. As with their previous releases, all performances are provided with a "stage" mix and a stereo mix. The program material on this recording has all been sourced from original DXD (352.8kHz/24-bit) high-resolution recordings and down-sampled to their resolutions for this Blu-ray release. The surround stage mixes are offered up in two flavors here, a DTS-HD Master Audio 5.1(192kHz/24-bit) mix and a DTS-HD Master Audio 7.1 (96kHz/24-bit) version.
The 7.1 mix does improve the imaging of ambience and instrumentation panned into the surround channels and to the sides over the 5.1, but the differences were slight in my comparisons. The high frequencies in the even further truncated 96/24 7.1 mix also sounded harsher to my ears as well when compared to the higher resolution of the 5.1 mix's 192kHz/24-bit resolution. If I had to choose a multichannel program to listen to, I'd choose the 5.1 for now, until the 7.1 were offered up in an equally high resolution.
Either way, both surround programs offer splendidly rich and natural acoustics with a wide soundstage and distinct instrumentation. Dynamic range is wide, but not unnaturally so, while the higher registers of the stringed instruments sound clean and bright without being too metallic or edgy.
The LPCM 2.0 mix also offers up an equally engaging option for those who prefer to listen in stereo. With equally clean mid-range and a wide stereo image, the lifelike ambience comes through perfectly even without the added benefit of 2L's stage surround mixes.
A brief note  on the SACD:
In comparison to the Blu-ray, I found the the SACD in this recording sounded a bit dull and lifeless. This is unusual for me. Usually, I always prefer the DSD to the PCM and, granted, these are very unscientific comparisons, with just some very simple level matching between different components. I still found it easier to obtain a better balance of sound in mutlichannel with the SACD playback, which I could only put down to differences in equipment even though the time alignment on the PCM end was far superior, which perplexes me still.  But, as far as overall sound quality goes, for whatever the reasons may be, this SACD sounded particularly smoothed out and "veiled" to my ears in comparison to the Blu-ray, which was not the case with previous 2L releases. So, in the end, I give the nod for In Folk Style to the high-res Blu-ray program over the DSD SACD version.
Supplemental Materials
[Rating:4/5]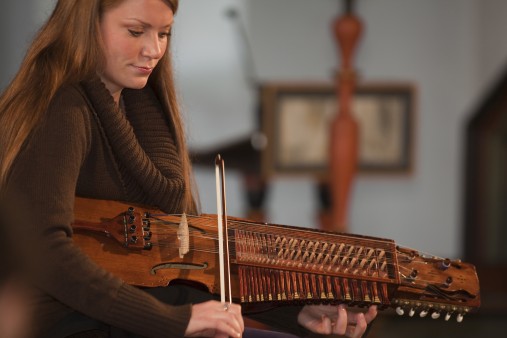 This disc makes use of what 2L calls "mShuttle" technology, which allows users to access their BD-Live enabled players over their networks and transfer copies of the recording in FLAC, WAV, or MP3 directly from the Blu-ray to their Mac or PC. Additionally, users can also download high-res cover art and the album booklet in .pdf form.
The Definitive Word
Overall:
[Rating:5/5]
I must admit I thoroughly enjoyed this disc straight through and regret that it took me so long to get around to listening to it. This is just the sort of experimental and off the beaten path orchestral music release I love to see coming out of the classical industry, rather than strictly rehashing the old warhorses. 2l have done it again on both sound and content for a strong and highly recommended high-res audio release.

Shop with us for more Blu-ray releases at Amazon.com